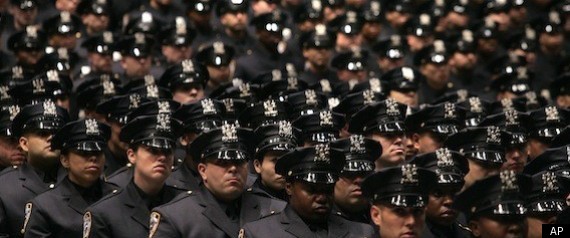 By: JadetheCreator
There comes a point where one must admit to the unnecessary force utilized by the law enforcement. It has been seen relentlessly since the beginning of 1893.
With the state America is in present day, it seems as though these crimes against the people are becoming more frequent, and ranging from children, animals, elders, and the disabled. As always, it is our word against theirs.
In September of 2012, Lieutenant Jonathon Josey unjustly punched a 39 year old woman at the Puerto Rican Day Parade in Phillidelphia. He mistook her for a man behind her that threw water on standby police. With no questions asked, he angrily hasted to her, hitting her once in the mouth, and once in the back of the head and knocking her down. She was not offered the courtesy of question or medical attention, and was hauled away like a criminal.
Instead of being fired immediately, he was placed on administrative duties until the investigation was over. Much later, he was fired.
Thankfully, for our inspection, there was someone in the crowd that filmed the whole thing, showing frame for frame, the whole incident that happened. In courts, he claimed that she tripped on an aluminum can and fell on her face, and ultimately injured herself. Although, the video suggests otherwise. The can itself crushes under her foot as she takes the first step, he hits her and she begins to fall after the first and second strike. Although she has been attending this parade for 19 years, she now experiences insecurity, and wont be likely to return to another.
Today, Josey has been acquitted of all charges, has been rehired in the police force AND is being monetarily compensated for lost time from work. A woman, of many, battered by those that are meant to protect us, with no justice given to them. Will we just stand by and watch?
Perhaps that's where it starts.
Today in Austin, Peaceful Streets Projects stands to bring unbiased evidence of these police encounters across the world. Houston's very own Cody Adams is there on behalf of the Houston Free Thinkers, and he believes it will be an integral step in the process of ending institutionalized violence.
Upon asking him for an update, he informed me that Bobby Seale, co-founder of the BLACK PANTHER PARTY and long time police accountability activist is there speaking on citizens behalf, especially for African American victims. He pioneered the practice of cop watching by following police officers himself in the community. As a part of his speech, Seale will cover how the camera is more effective than a weapon. A second speech will come from Radley Balko, writer for the Huffington Post and author of "Rise of the Warrior Cop: The Militarization of America's Police Force", followed by Carlos Miller of PhotographyIsNotACrime.com, Pete Eyre of CopBlock.org, Antonio Buehler and John Bush, co-founders of the Peaceful Streets Project, and profound entertainment by Tatiana Moroz, singer, song-writer, libertarian and activist, and B.Dolan, spoken word artist and lyricist from StrangeFamous Records, and activist.
This may not be the complete end to police brutality, but this is considerable a big staple in moving towards that direction. We thank Peaceful Streets Projects in cities near and far, and everyone actively putting in effort to support such a cause.
Stay tuned for details and footage.